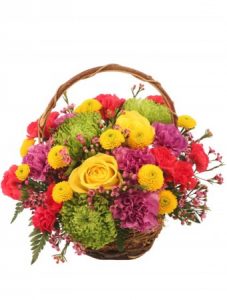 Some might say there's a holiday for everything, but "National Do Something Nice Day" seems particularly poignant: a day dedicated to surprising a special someone, and showing them how much you care and think about them. Oh, and guess what? "National Do Something Nice Day" is right around this corner — it's actually this Friday!
At Cole's Flowers, we suggest sending a special assortment of fresh florals to a loved one.

Bright Before Your Eyes
This assortment certainly lives up to its name well. This assortment of red gerberas, orange roses and yellow lilies packs an explosion of color, and is a clear, visual representation of affection. Suprise: your love is bright before your eyes.
Three's a Charm
We love 'Three's a Charm' because it gets the message of love across so effortlessly — and what better flower to do that than with pink roses? This simple arrangement is sure to please all who receive, because like they say: three's a charm!
Awe-Inspiring Autumn
Because even if it's "Do Something Nice Day," it's also still autumn. Which means that anyone would be delighted by some fall colors. That's where our Awe-Inspiring Autumn arrangement comes in: a dazzling performance of orange Asiatic lilies, yellow roses, blue delphinium, and more take the stage for this one.
Celebrate Today!
And last but not least, the arrangement that is the most straightforward: Celebrate Today! We've always loved this arrangement of purple iris, orange gerberas, hot pink spray roses, and much more because it can really work in any occasion. Whether it's a birthday, a celebration, or "Do Something Nice Day," Celebrate Today is here for you!
Try these floral arrangements on for size, and don't forget that the holiday is this upcoming Friday. Come visit Cole's Flowers today!