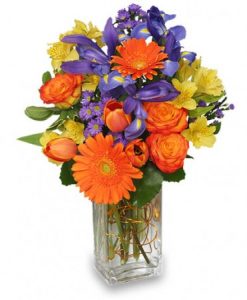 At Cole's Flowers, we believe that flowers are the perfect gift for your loved ones. It's a beautiful way of showing them that you care and appreciate their presence in your life.
November is National Caregiver Appreciation Month, a time when we think of the people in our lives who have given their lives to care for someone in need.
It takes a special person to be a caregiver and we can't think of a better way to show appreciation than with a Cole's Flowers arrangement.
Check out our recommended arrangements:
Happiness Grows
It's in the name. Happiness grows by way of bicolored circus roses, purple monte casino asters, orange tulips, and a whole lot more color. This arrangement will dazzle any special someone, and make for a beautiful centerpiece wherever, whenever. Click here to view this arrangement.
Have a Lovely Day
Here's another one where the name says it all. This glass vase, consisting of sunny yellow lilies and bi-colored roses, is sure to keep any person smiling long after. It gets across a simple message: you deserve to have a lovely day! Click here to see this arrangement.
Out of the Woods
We love this arrangement for two reasons. First, it's a beautiful display of color, with red gerberas, liatris, misty blue limonium, and other dazzling flowers—sure to display affection to any caregiver in question. And second, because it's perfect for this time of the year, with an autumnal aesthetic that everyone loves. Order your 'Out of the Woods' arrangement here.
There's nothing else that says 'I appreciate you' more than a customized flower arrangement. At Cole's Flowers, we create arrangements that we know our clients will appreciate, either as the recipient or the sender.