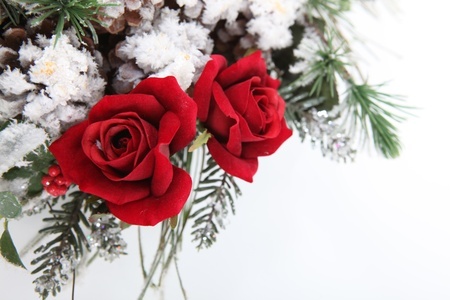 "Flowers always make people better, happier, and more helpful; they are sunshine, food, and medicine to the soul." – Luther Burbank

One of the best things about flowers is that they are not only a gift to those who receive them, but they are also a gift to the home and the loved ones who get the chance to enjoy them. Bringing flowers into the home brings light, love and a touch of nature and, as Luther Burbank said, serve as medicine for the soul.

It's the holiday season and flowers are a huge part of the celebration. Christmastime is a wonderful time to decorate your home with the beauty and scent of floral arrangements. Flowers represent the breath of life during a season that can seem quiet and dormant. Beautiful flowers inside the home for the holidays remind us that nature is always alive and in bloom.

Use your naturally given creativity to celebrate with a variety of colors for the holiday season. There is no rule as to what flowers can deck your halls at Christmas time – the choice is all yours. Whether you prefer a traditional red and green, or would rather decorate with rich burgundies, luscious creams, and all the shades of white, the arrangement you choose is a reflection of your own personal style and preferences. Don't forget about all the forest greens that complement country homes and provide a beautiful, rustic decor throughout the winter holidays.

The December holidays are all about gratitude, family and showing our friends and family how much we care. As we brighten up our homes with floral arrangements and scents of pine and holly, we should also remember that flowers make wonderful gifts. So deck your halls with boughs of holly, and spread the love by giving a bouquet of flowers to that special someone this holiday season. Check out our seasonal selections for Hanukkah, Christmas and Kwanzaa or contact us today for help selecting the perfect arrangement.