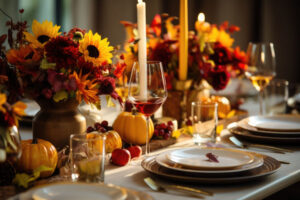 As the warm amber hues of autumn envelop our surroundings, there is an undeniable urge to bring that same warmth and coziness into our homes, especially in our dining spaces. Autumn dinners, whether they are intimate family affairs or larger gatherings, offer a wonderful opportunity to play with designs and create truly memorable table settings.
Here is how you can set a refined table that resonates with the charm of the autumn season!
Embrace Rich, Seasonal Tones
When setting up your table, starting with a color palette is a good idea. Consider incorporating deep burgundies, burnished golds, muted oranges, and earthy browns in your tablecloth, napkins, and plates. Florals can be a great way to introduce these colors naturally. For instance, you could choose a centerpiece with burnt orange roses, deep red dahlias, and golden chrysanthemums. To add a touch of green and a subtle nod to the fading summer, you could surround them with sprigs of eucalyptus or dried ferns.
Add Texture and Depth with Diverse Floral Elements
Diverse floral elements add intrigue to your table. Think beyond just flowers – dried seed pods, ornamental grasses, and even succulents can bring a varied, layered look. Tall, slender vases with willowy branches can give height, while shorter vessels filled with plush blooms like asters or sunflowers offer depth. Additionally, you can drape vines or ivy along the length of the table to create a continuous flow that guides the eye.
Consider Floral Accents Beyond the Centerpiece
Although a centerpiece is an important aspect of any floral arrangement, it is not the only way to incorporate flowers into your event. Consider using small bud vases placed at individual settings, each holding a single and significant bloom. This personal touch will make each guest feel special. Alternatively, you could use floral napkin rings or leaves as place card holders, which can add delightful details that enrich the overall experience.
Autumn dining is not only about the meal but also about the atmosphere. You can elevate an ordinary meal to a sophisticated autumnal feast by incorporating florals into your table setting, helping capture the beauty and richness of the season.
As the season progresses and you look to evolve your décor, consider exploring our diverse fall florals at Cole's Flowers, each crafted to bring a touch of autumn's grace into your home!
Place your order online today or contact us at (802)388-4003 with any questions or special requests for your fall floral arrangements.