When you want to celebrate an occasion by sending a gift, but don't want to send the usual basket of flowers, why not send something a little sweeter – or saltier?
Cole's Flowers has a ton of gorgeous floral arrangements for you to choose from, but for the occasion when flowers simply won't cut it, we also offer a number of baskets that make the perfect gift!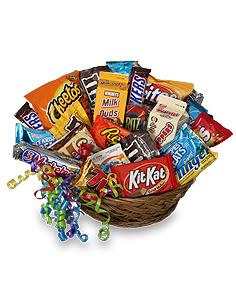 Perfect for any occasion, from celebrating a promotion, to sending a care package to help ease the transition back to school, our junk food basket is full of just about every kind of delicious sweet candy and salty snack you could ask for! This basket comes with the best snack food in the world, with chips, candy bars and candy pieces to help sate those sugar cravings and salty desires.
Does your recipient really love salty foods? Our salty snacks basket is perfect for people with a love of salty snacks. This basket comes with assorted chips, peanuts, sunflower seeds, pistachios, microwave popcorn, crackers and cheese. This basket is perfect for sharing with a group of snack lovers!
For the chocolate-inclined, check out our chocolate lovers' basket. This premium basket comes with Dove, Ghirardelli, Guylian Belgian, Lindt & Rocher chocolates, not to mention the M&Ms, Milk Duds, Butterfinger, Snickers, Twix, Reeses, Kit Kat and Milky Way candy bars!
If none of these gift baskets are perfect for you, that's OK! Cole's Flowers can design a custom gift basket for any occasion. Just use our custom order form to let us know what kind of occasion you're celebrating, who the basket is for and what type of balloons, chocolates or stuffed animals you'd like to have in the basket. You can even let us know if you have any special requests and we'll try to fulfill them if we can, meaning a beautiful bouquet and gift basket will be on its way to your loved on in no time.
To learn more or to place an order for any gift basket, call us today at 802-388-4003.