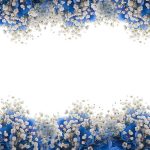 New Years isn't traditionally an occasion calling for flowers. But New Years bouquets are the perfect gift for a friend or family member that's hosting a party this year. It's also a great way to surprise a loved one at work or at home and starting their year off the right way.

Right between Christmas and Valentines Day, New Years is a great holiday for white and blue bouquets and arrangements that are clean, fresh and inspirational for the New Year ahead. Alone or accompanied by greenery, roses are a traditional and beautiful flower that can send a message of love, appreciation or thanks.

For a fuller arrangement, baby's breath can compliment roses perfectly. Their white color matches the focal roses, while adding more texture and reflecting the wintertime. Mixed with the green of the stems and leaves, this combination makes a great small, medium or large-sized arrangement.
White lilies are another great choice for a New Years bouquet. This recently popular flower is full, large and gorgeous. Often used in wedding bouquets, they can also be arranged alone of with other flowers for arrangements in vases or pots. These flowers also have a distinct scent that brings a fresh, floral smell to any room they are placed in.

In the place of baby's breath and in addition to white lilies, there are blue flowers that can stand out and make an arrangement really stunning. The two most sent blue flowers are blue orchids and hydrangeas. Either of these will add a pop of color to a white bouquet. Blue orchids are bright, with hints of dark blue and purple, while hydrangeas are a larger flower with lighter blue petals.

Any combination of roses, baby's breath, lilies, orchids and hydrangeas when professionally done, will be lovely and the perfect package for anyone's New Year. Use one or two of these flowers for a small, intimate bouquet or mix them all in together for a large centerpiece, designed to impress.