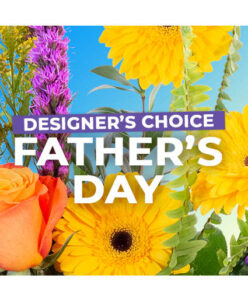 When it comes to picking out the perfect Father's Day present, we often lean towards the typical tool sets or shirt ties, but why not try something different this year? Dads deserve to get a gift that brings them great joy, and a bouquet of flowers is just the thing to do so.
Here are a few reasons you should get your dad some flowers for Father's Day this year!
A Great Surprise!
Socks, ties, and tools are all common gifts that many dads expect. Sending flowers is a way for you to think outside of the (tool) box and give your dad something different this year. He will love the change of pace and appreciate the extra effort it took to get something unexpected.
Customizable
Flowers are often overlooked as a present for dads. However, it can be a great Father's Day gift because you can customize the bouquet or arrangement based on his preferences. While you can give your dad any flowers, it is often best to think about what they like. Does your dad have a favorite flower? Surprisingly, many men do, so it would be nice to get those for him. If you don't know his favorite flowers because he never talks about them, consider his favorite color!
Add Other Gifts
You can also include other presents along with the flowers. Many people forget that florists also have other gift options. Yes, flowers are the primary present, but you can also find stuffed animals, small balloons, large balloons, candy, etc. Just put a little thought into the things your dad likes, and you're sure to give him something he will love.
We are prepared to give your father the bouquet of his dreams at Cole's Flowers. From classic roses to a basket of cheerful yellow flowers, we have something for every dad, no matter their favorite color or preferred flower. We also have our designer's choice arrangement carefully hand-crafted to perfection, forming the perfect masculine design.
Call us today at (802)388-4003 to get your flower order in time for Father's Day!