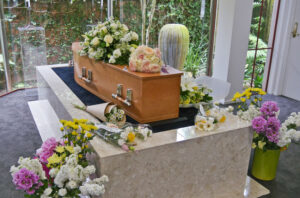 There is no worse feeling in the world than dealing with the loss of a loved one. There is no gift or offering you can give a grieving family or friend that will make them feel better, but flowers are always acceptable at such a tragic time.
Floral arrangements have been used for centuries at funerals, wakes, burials, and memorial services. They represent love for the ones who have been lost. Flowers are a well-respected way to show your sympathy and grief at an emotional time.
Here are three reasons why funeral flowers are important and should be included in any funeral service.
Spiritual Significance
Death is an inevitable stage for both flowers and humans. Flowers symbolize the spiritual journey of human life, showing that our time on earth is only temporary. Funeral flowers express the fleeting nature of our lives and comfort grieving families by letting them know that they are not alone on their journey of loss.
Personalization
Flowers are easily customizable, which allows you to choose a particular flower or color that your deceased loved one adored. You can get creative with the way they are presented with added photos or memorabilia tied into a bouquet. This type of personalization is perfect for a memorial service floral arrangement or funeral.
Added Color and Beauty
A funeral is a somber event. People slowly pace around wearing black clothes to symbolize death and mourning. Flowers are a respectful way to add color and beauty to the plain surroundings. Whether you place a beautiful floral arrangement on the casket or cover the whole room with flowers, the added beauty and fragrance will leave people with a sense of comfort and peace.
No matter the reason, sending attractive and beautifully arranged flowers is always good taste. Sometimes the only thing you can do when someone you love passes away is muster up the strength to bring a small amount of beauty and life into a solemn event. If you need flowers for a funeral, Cole's Flowers is here to support you. Call (802)388-4003 to order a funeral floral arrangement and let us create a beautiful offering of love and remembrance for you and your loved ones.