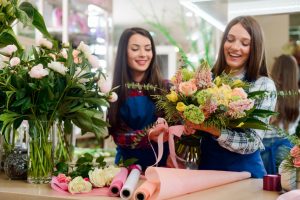 There are a lot of different elements that go into planning your wedding—the venue, the dress, food, music, etc. But what really helps you set the tone and pull all of those elements together are your wedding flowers! When you choose a florist for your wedding, it's important to find someone whose style matches your tastes and who is willing to work with you as closely as necessary to bring your vision to life.
Here are our top three tips for choosing the right wedding florist:
1) Get an idea of your flower preferences and needs before you talk to anyone.
If you don't know what you want or need for your wedding flowers, it's going to be difficult to determine if a florist you're considering is well-suited for the job. Start your search for the perfect florist by researching your perfect flowers first. Look online and at shops around to figure out what colors, flower types, and arrangement styles you like best. Throughout this process, consider things like the venue, season, budget, theme, and size of your wedding to narrow down what you need logistically.
2) Ask for recommendations.
Once you have an idea of what you're looking for in your wedding flowers, talk to people you know to see if they have any recommendations for a florist. Ask married friends and family, your wedding planner if you have one, or even your connections on social media if they've had a good experience or heard good things about someone. After you have some contenders to consider, check them out online to read reviews and see if you like their style.
3) Schedule a meeting with your top choices before making your final decision.
After you've researched and gotten a few leads for a florist, make an appointment to interview/speak with each one individually. You'll be able to get a better idea of whether they suit your preferences, are able to meet your needs, and seem like an overall good fit for the job. Don't forget to bring some of those examples you found of what you have in mind, wedding color swatches, and any pictures of the venue that can help the florist discuss your vision with you.
If you're planning a wedding in the Middlebury, Vermont area, let Cole's Flowers go above and beyond to take care of all your floral needs! Our consultants will work with you to custom-design arrangements, bouquets, décor, and all of the other floral elements you need to make your wedding magical.
Contact us today to get started with a consultation!