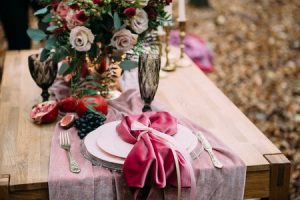 The holiday season is quickly approaching, which means it will soon be time to host a variety of parties and celebrations. Flowers are the perfect addition to accessorize your table setting, but with so many options it can be difficult to land on a specific bouquet. Your flower choice should always enhance the theme of your setting by accentuating your decor.
Here is a simple guide you can pull out each time you plan a dinner gathering, cocktail party, or celebration event:
Be Mindful of Size
Remember that flowers or plants that are too tall should not be used for dinner party centerpieces. They will obstruct the view of your guests and get in the way of natural socializing during dinner. Tall flowers and plants can be used for walk-around type gatherings, where your guests are less likely to sit down the entire evening. Or placed on a countertop or credenza, this way they will not be in your guest's way but will still be visible.
Small bouquets of multiple varieties or striking single flowers, work well on dinner tables. There is enough of a floral decor to be noticed and admired by your guests, but not enough to be distracting.
Focus on Subtle Scents
Highly scented flowers may be particularly overwhelming during a social gathering or cocktail party where many women and men will wear their own fragrances; the floral fragrance of flowers can be overpowering and may irritate those with allergies.
Consult with your florist to find out which flowers have more subtle scents and would,
therefore, be more appropriate for a social gathering.
Consider the colors in your decor
If your party decor is minimalist or natural; flowers can be used to add that splash of color every design craves. If you are throwing a more fabulous and colorful event; white flowers can be stunning and elegant. When you contrast the colors of your flowers with the colors of your decor, you create a powerful and stylish, look where no aspect of your design goes unnoticed.
Don't overwhelm yourself, Plan ahead
Before visiting your florist, choose a few flower color choices, and do your best to stick with them. You can get easily overwhelmed in a florist shop by all the beauty and choices of flowers and plants and end up choosing too many colors and too many varieties.
If you are looking for holiday-themed bouquets this season, be sure to take a look through our list of holiday bouquets to find the perfect flower arrangement to coincide with your celebrations! Cole's Flowers in Middlebury, Vermont is dedicated to exceeding all your floral needs. Contact us today to learn more, or to order a custom bouquet!