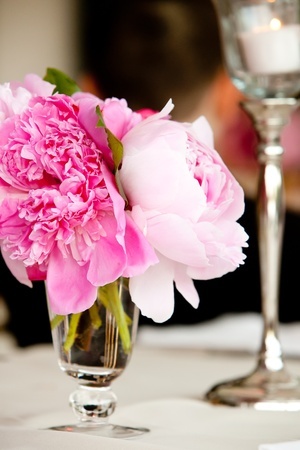 Flowers come in a multitude of varieties and colors; choosing the right ones for the occasion can sometimes seem overwhelming. Roses in pink, white, or red; Marigolds or sunflowers for a more natural looking setting. How do you choose?
Your flower choice should always enhance the theme of your setting and bring your decor alive.
Here is a simple guide you can pull out each time you plan a dinner gathering, cocktail party, or celebration event:
1. Avoid tall flowers, trees, and plants for dinner parties.
Remember that flowers or plants that are too tall should not be used for dinner party centerpieces. They will obstruct the view of your guests and get in the way of natural socializing during dinner. Tall flowers and plants can be used for walk-around type gatherings, where your guests are less likely to sit down the entire evening.
Small bouquets of multiple varieties or striking single flowers, work well on dinner tables. There is enough of a floral decor to be noticed and admired by your guests, but not enough to be distracting.
2. Choose flowers with more subtle scents.
Highly-scented flowers all over a room can be disturbing to some of your guests. Particularly during a social gathering or cocktail party where many women and men will wear their own fragrances; the floral fragrance of an abundant of flowers can be overpowering and may irritate those with allergies.
Consult with your florist to find out which flowers have more subtle scents and would therefore be more appropriate for a social gathering.
3. Consider the colors in your decor.
If your party decor is minimalist or natural; flowers can be used to add that splash of color every design craves. If you are throwing a more fabulous and colorful event; white flowers can be stunning and elegant. When you contrast the colors of your flowers with the colors of your decor, you create a powerful and stylish, look where no aspect of your design goes unnoticed.
4. Don't overwhelm yourself. Plan ahead.
Before visiting your florist, choose a few flower color choices, and do your best to stick with them. You can get easily overwhelmed in a florist shop by all the beauty and choices of flowers and plants, and end up choosing too many colors and too many varieties.
So plan ahead and remember to keep it simple.