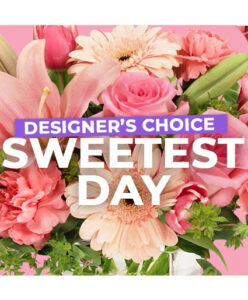 Sweetest Day, celebrated on the third Saturday of October, is an original American holiday not based on any group's religious tradition. It's simply a reminder that a thoughtful word, deed, or small gift enriches the life of the recipient as well as the person giving it.
What Is the History of Sweetest Day?
Legend has it that Sweetest Day was established around 1922 by Herbert Birch Kingston, a Cleveland, Ohio, candy company employee who wanted to bring happiness to the lives of those who often were forgotten. Kingston and others distributed candy and small gifts to orphans, people confined in their homes, and others to show them that someone cared.
In the early 1930s, movie stars got into the act. Ann Pennington distributed candy to 2,200 Cleveland newspaper boys, and Theda Bara gave candy to theatergoers and patients in Cleveland hospitals.
In time, the Sweetest Day idea of spreading cheer broadened to include everyone from family members to sweethearts and coworkers to acquaintances.
How to Celebrate Sweetest Day
The main tradition on Sweetest Day is to show someone that you care about them with an act of kindness. Some of the following ideas are a great way to celebrate the holiday!
Organize a Charity Event
You can opt to organize a charity event in your community to help raise money. One of the ways that you can do this is to sell candy and other gifts on this day and then use the proceeds to fund a charity organization.
Send Gift Cards
Buy gift cards that you can share with those who have impacted your life. Gift cards are very useful because they are long-lasting and can be preserved for memories. The best thing about gift cards is that you can send them as a kind gesture to people you do not know, such as essential health workers and others who have been useful to you at a certain point in your life.
Purchase Floral Arrangements
Flowers are a unique and beautiful way to remind someone how much you care for them—select blooms or blossoms in the person's favorite color for a thoughtful and personalized touch. You can also send flowers to their office or place of work for an added surprise!
At Cole's Flowers, we have the Sweetest Day floral arrangements you need to show your loved one how much you care. Our designer's choice arrangement will create a visual representation of your love for your person. From hot & spicy to sun-kissed country, we have an option for every special person in your life.
Contact us at (802)388-4003 or browse our Sweetest Day collection online for more information!