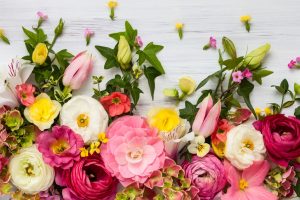 Flowers can serve many different purposes—brightening up indoor and outdoor spaces, decorating for a special celebration, and the perfect gift for almost any occasion. But when you're giving flowers as a gift, you're also using them to send a message. Different flowers, colors, and arrangements can convey different messages, so the ones you choose matter.
Check out the symbolism behind some of the most common bouquet flowers below, so the next time you want to show someone how you feel, you know exactly which ones will craft the perfect message!
Lily
Lilies are a pure and innocent flower. They represent modesty, sweetness, and sometimes, sympathy. The exact meaning will depend on the type of lily you choose.
Best Occasions: Wedding (calla lilies, lily of the valley), Funerals/Loss (white stargazer lily)
Carnation
When it comes to expressing any kind of love, you can't go wrong with carnations. These beauties mean love, admiration, and good luck. Different colors symbolize different types of love.
Best Occasions: Mother's Day (pink), Anniversary (dark red), Graduation (white)
Rose
Everybody knows the rose as the flower of love and passion. But its meaning can go deeper to also symbolize happiness, enchantment, gratitude, and appreciation. Like the carnation, the exact meaning of a rose depends on its color.
Best Occasions: Anniversary (red), Birthday (pink), Valentine's Day (red or lavender), Miss You (peach)
Aster
Aster is typically used as an accent flower in many types of bouquets. It symbolizes love, daintiness, wisdom, faith, and patience.
Best Occasions: New Baby, Anniversary, Easter
Orchid
The orchid is considered a flower of rare, exotic beauty. It is representative of love, sensuality, delicacy and fertility.
Best Occasions: Prom, Wedding, Anniversary, New Baby
Gerbera
Gerberas are a type of daisy known for their bright, attractive colors. As such, they tend to convey cheerfulness, happiness, and energy. They can also be used to symbolize loyalty.
Best Occasions: Just Because, New Baby, Birthday
At Cole's Flowers, we craft our bouquets with a wide variety of different flowers and colors to help you send the right message for every occasion! If you're not sure which ones will best express how you feel, our flower specialists are always on hand to help you decide on the perfect arrangement.
Stop into our shop or give us a call at 802-388-4003 to get started with your order!