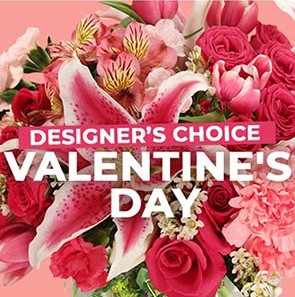 Yes, Valentine's Day flowers are still a thing. When we think of this red and pink-themed holiday with paper hearts and boxes of chocolate, flowers usually come to the forefront of our mind, and for good reason.
Why are Flowers the Gift of Valentine's Day?
Valentine's Day flowers began as a tradition in the 17th century. Roses were the choice of the time because they were said to represent love in all its forms. The rose is supposedly the favorite flower of Venus, the Goddess of Love because it stands for strong feelings. As a result, lovers began giving flowers to those they cared about to express their love for one another. The meaning of Valentine's Day flowers has evolved over the years, but the purpose has remained close to its origins; a way to show our love and appreciation for those closest to us.
Who Can I Give Valentine's Day Flowers To?
Valentine's Day flowers are not just for a romantic lover. You can give anyone who holds a special place in your heart flowers on Valentine's Day. Daisies are beautiful flowers to give a friend or mother figure in your life. They represent purity and true love and can be bought in shades of pink, which is a color that expresses love and femininity. Flowers are an equally sweet gift for men as they are for women. Studies have shown that men who are given flowers become more open and communicative with their partners. No one should be left out on Valentine's Day!
How Do I Pick the Perfect Flowers?
If plain red roses aren't tickling your fancy and you are at a loss for what kind of flowers to get your loved one, choosing a Valentine's Day designer's choice arrangement is the best option for you. Trusting an expert floral designer to create something truly magical for the person you love most is an incredible option and a weight lifted off your shoulders.
At Cole's Flowers, we understand what this special holiday represents, and we have plenty of floral options that signify the meaning of love. Call (802)388-4003 to speak with a knowledgeable floral designer and discuss your options for the perfect Valentine's Day floral arrangement for your loved one!