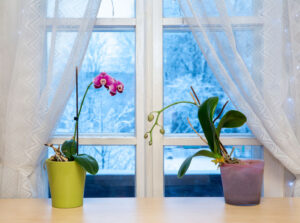 Taking care of yourself in the winter is a little different than taking care of yourself in the summer. The cold weather and limited daylight mean you have to focus on keeping your body warm and comfortable and your spirits and energy up through the prolonged darkness. Well, the same is true for your houseplants!
The care plants require to stay healthy and happy in the winter months is not quite the same as their summer needs. To ensure your indoor plants make it through to see the spring sun once again, keep these tips in mind to adjust your care routine!
Be careful not to overwater.
Overwatering is probably the top reason some houseplants don't survive the winter. Plant growth is much slower in this season, with some plants going completely dormant altogether. As a result, their water needs are reduced. To avoid making this common mistake, only water your plants in the winter when you can stick your finger two inches deep into the soil and it still feels dry.
Avoid using fertilizer in winter.
Again, your plants are not growing right now, so they don't need the extra nutrients fertilizer provides. In fact, feeding them now can throw off their natural cycle and stunt them in the growing season. Wait until the leaves of your plants start to perk up or you can spot signs of new growth to start fertilizing again.
Now is the time to prune.
If the indoor plant species you have need pruning or repotting, the dormant season is the ideal time to do it. Pruning now helps promote robust growth come spring. Hold off until later in the winter season though, closer to the onset of the growth season.
Don't forget about pests.
Pests may not be as annoying or widespread in the winter months, but that doesn't mean they're not still a threat. Monitor and inspect your plants for pests or signs of them regularly throughout the season. Help prevent pest activity by keeping plants away from heaters, ensuring they get enough light, and by not over-humidifying them.
If you're looking for a new plant or flower bouquet to brighten up your Middlebury home for the dark days of winter, Cole's Flowers has you covered! Choose from our selection of vibrant houseplants or winter flower arrangements to bring some much-needed warmth and light to your space. Or, let our designers create a custom arrangement just for you.
Order your new plant online today or stop by our shop for help choosing the perfect one!