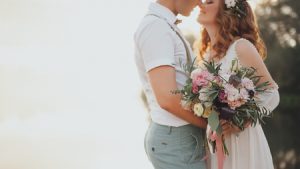 Fall is an extremely popular season for weddings. The weather is just right-not too hot, not too cold, and the beautiful Autumn leaves create the perfect backdrop for a Fall wedding. When it comes to flowers there are many different options to choose from.
Here are a few flower options perfect for a Fall wedding:
Chrysanthemum
Chrysanthemums are the most traditional go-to fall flower, and are often referred to as the "Queen of Fall Flowers." Chrysanthemums bloom in a wide array of colors, which is great news for brides, because there are lots of color options making it easy to match your mums to your wedding's theme and décor.
Daisies
While daisies may seem like they are primarily a summer flower, because they often thought of as yellow, these flowers also bloom in rich, fall colors, such as purples and reds. In dark tones, these flowers are big and beautiful, and will help draw out any other fall colors present in your theme.
Aster
If you're looking to paint a to-die-for romantic setting at your fall wedding, consider going with purple aster flowers. The deep purple color on these tiny wild-looking flowers will give your wedding an intimate and regal feel. Purple aster is associated with love and patience, two things that are key to a successful marriage.
Snow Drops
For a unique winter-white bouquet, perfect for a fall wedding easing into the winter season, many couples choose to go with snowdrop flowers. These flowers have petals that turn towards the ground. They are thought to symbolize hope, purity and rebirth.
Weddings are about celebrating you and your spouse and it's important to choose flowers that are an expression of your love for one another. Let Coles Flowers help you choose the right fall flowers for your wedding! Contact us today to find your perfect wedding bouquet!