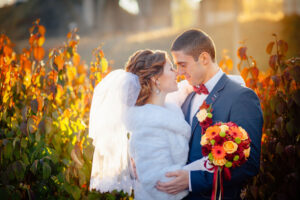 An autumn wedding calls for rich, warm colors, cozy themed décor, and satin dresses. If you are planning a fall wedding, keep in mind that seasonal flowers might work well with your décor and could assist in bringing your theme to life!
Here are just a few of the best floral options for your fall wedding.
Mums
Mums are the most traditional go-to fall flower and are often referred to as the "Queen of Fall Flowers." They bloom in a wide array of colors, which is great news for brides because there are lots of color options making it easy to match your mums to your wedding's theme and décor!  
Amaranthus
This perennial plant has become a popular choice for fall wedding flowers because of its ability to softly cascade and add shape to your arrangements, whether you use it in bouquets and arches or hanging installations and centerpieces. 
Garden Roses
No matter what time of year you're getting married, roses are the perfect wedding flower. They signify love and romance in nearly every culture worldwide—but perhaps the main reason roses are a popular fall wedding flower is because they bloom in so many different shades, from reds, purples, and pinks to yellows, oranges, and whites. Garden roses are traditionally larger and more petal-dense than other rose varieties, like tea and spray roses.
Calla Lilies
Calla lilies are one of the most popular fall wedding flowers. Their long-petaled, basal leaves are great for use as a boutonniere, and their variety of colors can match almost any wedding theme or palette. From traditional white to crystal blush and deep plum, wine, and mulberry shades, the calla lily is an elegant choice year-round. They are ideal for indoor and outdoor venues since they hold up well in almost all-weather conditions and don't have delicate petals that are easily damaged.
Snow Drops
For a unique winter-white bouquet, perfect for a fall wedding easing into the winter, many couples choose to go with snowdrop flowers. These flowers have petals that turn towards the ground. They are thought to symbolize hope, purity, and rebirth.
At Coles Flowers, we have a wide range of fall flowers that are perfect for your autumn wedding! From bouquets and boutonnieres to unique centerpieces and altar arrangements, we have all your floral needs covered for your special day.
Contact us at (802)388-4003 to learn more about our wedding services!