According to the US National Library of Medicine patients in hospital rooms with plants had significantly more positive physiologic responses, less pain, anxiety, and fatigue than patients without plants in their room. Because of the many benefits, plants have, especially stress relief, keeping a plant on your desk or in your office can significantly improve your work environment. This is a necessity in high-pressure work environments. If you have an office plant or are considering getting one it is important to understand how to take care of it.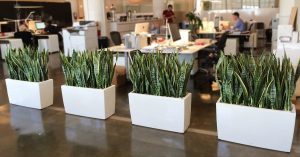 The plant takes care of you, so don't neglect it. Be sure to thoroughly read the care card that comes with your plant because it will tell you exactly what it will need to survive. Remember that just because you like a certain plant doesn't necessarily mean that it will work best in your workspace.
Here are some things you should consider before purchasing a plant for your office:
Lighting- Do you work in an office that doesn't get much sunlight? If this is the case, consider a plant that doesn't need a lot of sunlight like a cast iron plant or dracaena.
Space- Depending on your workspace you may not have a lot of room for a full-size Dragon Tree. Small plants can still be very beneficial. If you don't have a lot of room to work with, a succulent is great for a small area.
Watering- Since this plant will live most of its life at your job, don't get a plant that requires a lot of watering. You may get busy and forget or go on vacation and leave it for a week. If you can't water your plant often consider getting a plant that can thrive in drier soil like a cactus.
If you are looking for a plant to put in your office visit, consider a Peace Lily from Cole's Flowers. Peace Lilies are great plants for your office and home. They also help to cleanse the air of toxins and require minimal care.
Cole's Flowers, in Middlebury, VT, is your source for plants and beautiful floral arrangements for any occasion. Check out our plant selection here!