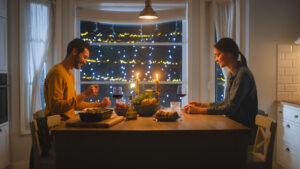 We often take the people we love for granted, especially our significant other. We stood in front of our family and friends and made a lifelong commitment to one person, shared vows, and exchanged rings that signify forever, but that doesn't mean we have to stop trying to prove our love.
Marriage doesn't mean you're done wooing your partner; that's exactly how many relationships start to fail. We get lazy, we get comfortable, and we assume that our person will always be there, but who wants to be in a relationship where they feel forgotten?
Here are five ways to show your significant other you love and appreciate everything they do for you.
1) Write it Out
We can become numb to the everyday pleasantries of others. We say, "thank you" when someone opens the door for us, and we respond, "I'm well," when asked how we are doing. We say what we are supposed to say every day without giving it any real thought, without letting people know how we truly feel.
Think of how much your spouse does for you daily, no matter how big or small. Maybe they tiptoe out of bed every morning and get ready in the bathroom so as not to wake you, or they make you dinner or warm up your car for you during the cold winter months. Write these things down and thank your partner in a letter, sweet note, or handmade card. Writing it down makes your words more concrete, provides deeper meaning, and gives your partner something to look back on and reread at their leisure.
2) Give Them a Break
Rest and relaxation are necessary to stay sane, and your partner deserves some time off. Whether it's a night away from the kids to go out with their friends, booking them a massage, or simply giving them time alone in the house to read, watch their favorite show, or sleep. Letting your partner know that you have everything under control and they can kick their feet up is a great feeling and lets them know that you care about them and their mental health.
3) Take Them on a Date
Whether you cook your spouse their favorite meal, go to a beautiful hiking spot and watch the sunset, or take them to the movies, plan a special date that you know they will enjoy. This activity will be different for every couple since everyone has their own version of fun, but you know your partner better than anyone, so you should be able to plan something meaningful.
Planning and executing a special date allows your significant other to feel seen, heard, and appreciated by you. Sometimes showing them how much you care is more powerful than saying it.
4) Support Their Passions and Dreams
Is your partner passionate about fly fishing, cooking, football, or painting? Do they dream of one day becoming a marine biologist, opening up their own business, or learning to play guitar?
Support your spouse in their dreams and goals by encouraging them to pursue the things they love and don't talk negatively about their passions. You don't have to want everything your partner wants in life, but you should be there for them in any way you can because you signed up to love them through all their endeavors.
5) Give a "Just Because" Gift
Everyone loves receiving unexpected gifts. Purchase something your spouse loves but wouldn't normally buy for themselves, attach a sweet note and surprise them when they arrive home or even at work! There are no strings attached, no particular reason; it's "just because" you love and appreciate them.
At Cole's Flowers, our "just because" floral arrangements are a perfect way to show your significant other a little gratitude for everything they do. Everyone loves a beautiful bouquet, but we don't buy them for ourselves very often. Customize the presentation to your partner's liking and watch their face light up when they see (and smell) the wonderful flowers you selected for them.
Contact us at (802)388-4003 to surprise your significant other with a beautiful floral arrangement just because you can!