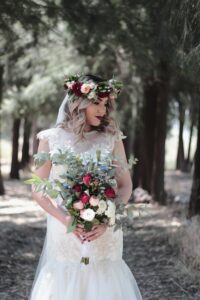 Selecting the appropriate flowers for your wedding is a crucial aspect of the planning process. They are an important part of your wedding day as they create ambiance, determine the color scheme, and narrate the visual story of your special day, but with numerous options available, choosing the ideal wedding flowers can be overwhelming!
This guide will walk you through a few key steps to ensure your wedding flowers truly represent your style and vision!
Determine Your Floral Budget
Before choosing your wedding flowers, it's crucial to determine your budget. The cost for wedding blooms can vary greatly, so it's important to consider all aspects, including vases, ribbons, labor, delivery, setup, and more. Having a budget in mind will help you make more targeted decisions and narrow down your options.
Consider the Wedding Theme and Venue
Your wedding theme and venue play a significant role in choosing the perfect flowers. For instance, a rustic wedding may call for wildflowers in mason jars, while a glamorous, ballroom wedding might require opulent centerpieces with roses and peonies.
Consider the venue's existing décor and color scheme. Choosing flowers that complement the surroundings will create a cohesive look and feel. It's also a good idea to consider the season and availability of flowers to ensure your choices are environmentally friendly and cost-effective.
Incorporate Your Personal Style
Your wedding day is about you and your partner, so letting your style shine through your floral choices is crucial. Are you drawn to classic roses, romantic peonies, or exotic orchids? Do you prefer a minimalist aesthetic or love the look of abundant, cascading greenery?
Remember, there's no 'one-size-fits-all' for wedding flowers. Choose blooms that you love and that have personal significance to you. This will add a unique, personal touch to your wedding décor.
If you're ready to explore your wedding flower options, Cole's Flowers is here to assist you! We can handle all your floral arrangements for your special day. Form The tossing bouquet to the reception and ceremony flowers, our artistic florists will craft a beautiful arrangement that will fit the theme and color scheme of your wedding perfectly!
Contact us today at (802)388-4003 so our expert florists can help make your floral vision come to life, ensuring your wedding day is as beautiful and unique as you are.