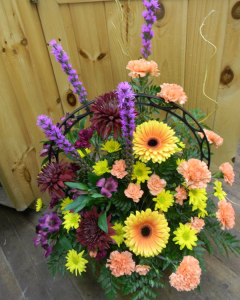 Flowers bring joy and light into the world, making them the most suitable, all-purpose decoration and a gorgeous gift for any loved one.
Although you can often find flowers at numerous locations throughout your town, there are many benefits to ordering from your local florist! Here are just a few advantages:
Fresh Florals
Local florists put a lot of focus on taking care of their precious flowers. They ensure their florals receive proper nutrition and water and prioritize storing them at the right temperature.
Purchasing floral arrangements from a flower shop near you means you get blooms while they're fresh and in season. Many flowers from outside your region have usually been cut and spend several days in refrigerated storage before they get to you, which means they'll likely wilt in your home within a few days. Places like supermarkets often receive flowers they fail to care for properly, leading to duller florals that last for less time.
Creative Combinations
Stores often sell mass-produced, premade bouquets containing a few different types of flowers bunched together the same way as the other bouquets behind it. On the other hand, local florists create stunning arrangements and combinations of flowers to suit different moods, seasons, and holidays! These artists use their expertise to mix numerous types of flowers in varying spectacular colors, inventing arrangements for any occasion.
Get Your Orders Quickly
Staying with a local florist means you will get your orders much quicker than if you order from a giant floral supply chain, leaving you to enjoy your blooms for longer.  Once you've established a relationship with your local florist, you can be sure you'll have someone who knows precisely what you need when you need it.
Support Your Local Economy
You support your community's economy when you spend your money at a local business. The taxes go back into your city, allowing your local government to invest in your neighborhood. Moreover, buying from a nearby florist helps keep that shop open so you and other residents can enjoy beautiful custom blooms for years to come!
You can trust Cole's Flowers to be your number one local florist in the Middlebury, VT & surrounding areas. Our experienced designers can create floral arrangements that will complement any occasion and meet your budget and style expectations as well.
Contact us at (802)388-4003 for a custom, locally made floral arrangement!