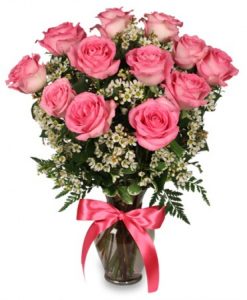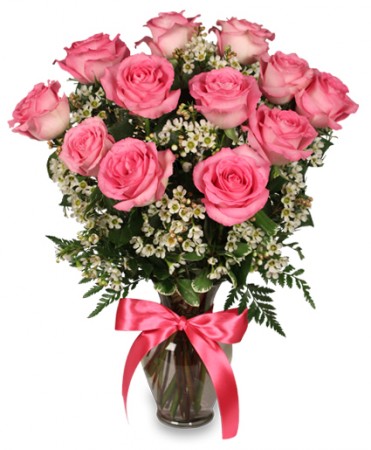 Valentine's Day is the perfect opportunity to express your love and devotion for those you care about most deeply.  Ignite those feelings with a fresh floral arrangement from Cole's Flowers that are sure to make a lasting impression.
At Cole's Flowers, we strive to personalize every arrangement with the option to add balloons, stuffed animals or chocolates to each order.
Take a look at more of our featured Valentine's Day arrangements below:
Classic Dozen
Our Classic Dozen is sure to make a heart skip and a stomach flutter.  Nothing says "be mine" more eloquently than a dozen red roses softly presented with lush greenery.  If that isn't sweet enough, include a box of chocolates with this kind gesture to keep someone special smiling for the rest of your evening.
Adoring Devotion
Celebrate many years together with an arrangement as full as the love the two of you share. Delight in the Adoring Devotion, an arrangement full of soft beauty and elegances consisting of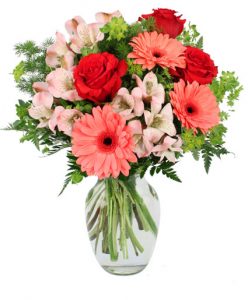 cream roses, blushing pink flowers, and peach hypericum. Celebrate your relationship by embracing each moment, for better or for worse.
Mosaic of Memories
Our Mosaic of Memories arrangement is the perfect arrangement to give to someone that you care about.  Add joy to their day with this blooming collage of red roses, coral gerberas, and light pink alstroemeria.
Primetime Pink Roses
The Primetime Pink Roses arrangement, which is beautifully bubblegum pink, is a light and carefree Valentine's Day arrangement. Express your love and emphasize the friendship you and your soulmate have built together. A rose represents love and devotion, and when combined with the color pink, provokes feelings of cheerfulness and bliss.
Flowers are a staple Valentine 's Day gift.  Embrace the tradition and know you can't go wrong with Cole's Flowers arrangements. Place your order today and warm their heart with flowers!