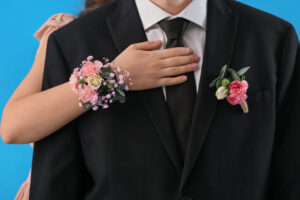 Prom night is a special occasion for young people, marked by excitement, glamor, and tradition. One of these traditions involves exchanging corsages and boutonnieres, adding elegance to prom attire, and representing the bond between prom dates.
While picking the perfect floral accessories may be daunting, these tips can help you choose something that suits you and your date's personality!
Understand the Basics
Before you dive into selecting flowers, it's essential to understand the basics of corsages and boutonnieres. Traditionally, a corsage is worn by females, pinned to the dress or wrist, while a boutonniere is worn by males on the lapel of their jackets.
The corsage and boutonniere are usually color-coordinated to match the attire of the promgoers. It's customary for the date of the male to purchase the corsage and the date of the female to purchase the boutonniere. However, these traditions can be flexible and adapted to suit your personal preference and style.
Choose Flowers That Complement Your Outfit
When choosing flowers for your corsage and boutonniere for prom, it's important to consider how they will complement your attire. You should consider your dress or suit's style, color, and fabric. If you're looking for a classic look, roses are always a good choice, as they come in different colors that you can easily match with your outfit. For a more exotic look, you can go for orchids or lilies. If you prefer a more casual and playful vibe, daisies or sunflowers could be the perfect option. Just remember that the flowers should enhance your attire, not overpower it.
Consider the Durability of the Flowers
Prom night is usually a long evening filled with dancing and fun. Therefore, choosing flowers that can withstand the night's activities is important.
When selecting your prom flowers, consider their durability. Some flowers wilt quicker than others. Roses, carnations, orchids, and alstroemeria are known for their longevity and can stand up to a night of dancing!
At Cole's Flowers, we can take your prom night to the next level with our custom-arranged corsages, boutonnieres, hair pieces, and handheld bouquets! No matter your color scheme or style, we can create something unique and beautiful for your special night. With our wide selection of the highest quality flowers and experienced designers, you're sure to find floral accessories that will be the highlight of your prom attire!
Contact us at (802)388-4003 to inquire about our prom flowers and special occasion arrangements.