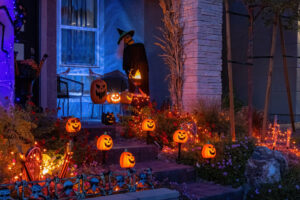 Spooky season is upon us, and there's no better way to get in the spirit than going all out on festive home décor! Whether you're planning on having a big Halloween bash or simply taking the kiddos out trick-or-treating, putting in some effort to dress up your home goes a long way.
Here are a few ways to decorate your home for Halloween to put everyone in the spooky spirit!
Make Use of Your Lawn Space
Your lawn offers the biggest stretch of land for showcasing your outdoor Halloween decorations. Pick a theme, stick with it, and let your front yard play out a story or scene. If you want to go with a more traditional graveyard setup, that is okay too, but passersby always appreciate a creative approach when it comes to the art of lawn decorating!
Dress Up Your Porch
You want to make your porch approachable, and welcoming, especially for all the small trick-or-treaters running around come Halloween night.
You can't go wrong with a festive wreath and welcome mat but try to amp it up a notch by adding unique elements to your porch setups like an animated doorbell with an eye or a big Frankenstein holding the bowl of candy.
Don't forget the porch pumpkins!
Carving pumpkins is a great family activity, and they make for perfect porch décor. Carve a scary face or something that fits your theme, light up the inside with a small tea candle, and watch your creation take the spotlight on Halloween night.
Bring the Spooky Indoors
Don't forget to bring the festive décor inside! From decorative cobwebs and skeletons to Halloween bedding and kitchenware, there are so many options when it comes to getting the inside of your home ready for the holiday.
Pro Tip: Try adding florals into your interior décor for fresh seasonal scents and eye-catching enchantments!
At Cole's Flowers, we have a beautiful selection of creative floral arraignments for Halloween. From bewitching blossoms to contemporary autumn designs, our florals will look incredible within your home and can be customized to fit your unique spooky theme.
Contact us at (802)388-4003 for more details on our Halloween-themed floral arrangements.