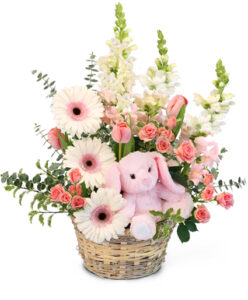 When parents welcome their baby into the world, the responsibility of caring for a new life is exciting and overwhelming. During this transitional time, it's important that you show your support and love to the new parents! A bouquet of beautiful flowers serves as a wonderful encouragement gift.
When Should I Send New Baby Flowers?
Many people choose to wait until they have heard the news that the expecting mother is going into labor to order an arrangement. Some people suggest sending the flowers to the new mother's home so that the parents have less to transport from the hospital. Choosing to have the flowers delivered to their home gives you the option of ordering them in advance.
What Type of Flowers Should I Choose?
There are many options when it comes to new baby flowers. Many florists will have choices tailored to the gender of the child. A pink basket of flowers might be more desirable for a baby girl, while a floral arrangement with lovely blue iris and white spray mums might be more suitable for a boy. If the parents are waiting to find out the gender until the baby is born, several gender-neutral options are just as beautiful!
What is an Appropriate Card Message?
When writing your card message to accompany your stunning floral arrangement, remember that the parents need encouragement, support, and love. Here are some examples:
"I'm so excited for you as you embark on this new stage of life. Know that I am only a text or phone call away if you ever need me."
"You deserve every amount of happiness that this new baby is going to bring you!"
"Congratulations! I can't wait to meet your new bundle of joy."
Choosing a florist you can trust when picking a new baby floral arrangement is important. We can custom design your bouquet to meet your individual requirements and needs at Cole's Flowers. We have several options for new baby bouquets, including a premium designer's choice arrangement!
Call us at (802)388-4003 to order your baby bouquet and help the new parents in your life welcome their child into the world!