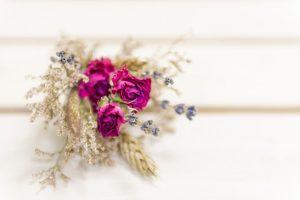 Your wedding is a once-in-a-lifetime milestone, so it makes sense that you would want to hold onto as many mementos as possible from that special day. A popular tradition among brides is preserving the bouquet they carefully selected and carried down the aisle.
While you could always have your flowers preserved by a professional, there are a few easy DIY options you can do at home if you want to save money or just have the experience of doing it yourself. Try one of the methods below to turn your bridal bouquet into an everlasting keepsake!
1) Press your flowers
Place the flowers from your bridal bouquet between two pieces of parchment or wax paper (one underneath and one on top). Close them between a heavy book, such as a textbook or phonebook, and weigh it down with a few more items on top. Leave for 7-10 days and voila! The press method is perfect for framing flowers for the wall or gluing them into your guestbook.
2) Immerse in silica gel
Silica gel removes moisture from its surrounding environment and will preserve the shape and color of your bridal bouquet. Pick some up at any craft store and create a bed layer in an airtight container that can fit your flowers. Place the flowers on the gel layer, then cover them fully among the petals with more gel, taking care not to compromise the shape. Let them sit for one week.
3) Preserve in resin
Resin is a fun way to turn bridal flowers into unique décor! Head to the craft store and grab a mold of your desired shape—a heart, initials, etc.—and some clear epoxy resin. Fill the mold halfway with the resin, then carefully arrange the flowers how you want them to look in the liquid. Once set, fill the rest of the mold to the top and let it dry.
4) Hang your bouquet to dry
Although the colors of your flowers may be a little more muted with this method, it is your simplest option. Tie your bouquet together tightly and hang it upside down somewhere warm and dry, such as the inside of a cabinet, for several weeks. If you can dry them in a spot that's also dark, this will help preserve as much of the color and scent as possible.
For help crafting a one-of-a-kind custom bridal bouquet you'll want to preserve and look upon for years to come, enlist Cole's Flowers to take care of your wedding flowers! Our bouquets range from traditional to modern in style and are available with all the embellishments necessary to make it feel like you.
Call us today at 802-388-4003 to discuss all of your wedding flower needs!