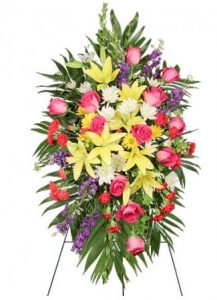 A death of someone close to you, a friend or a loved one is a terrible thing. During these times, one of the more instinctual ways to express sorrow is to send flowers. However, the type of arrangement sent may or may not be appropriate. Even the type or color of flower could be offensive, depending on a family or individual's beliefs. If you need to send a gift to friends or loved ones who are grieving, here's a few floral tips and tricks to refer to.
Type of Flower
There is a wide variety of flowers that are often chosen for funerals. Usually lilies, carnations, roses, gladiolas and chrysanthemums are sent. White flowers are popular for most Christian funerals, sending a subtle message of calm, serenity and peace. These flowers are then selected and then placed into a wide variety of arrangements. But which arrangement will portray the best message? Funeralwise suggests a few different options:
Wreaths
Wreaths are a common choice, and can be filled with any type of flower. Symbolically, the circular shape of wreaths is seen as a traditional representation of eternal life.
Standing Sprays
Floral spray arrangements are designed to be viewed only from the front, and will typically be most appropriate as a display during a calling hours or viewing where they can be placed tastefully near the casket or urn.
Casket Spray
A casket spray may sound like a good arrangement to send, but these are typically purchased by family members as a display atop the casket of the deceased. Before you order one of these arrangements you should check with family members to see if it is appropriate.
Sympathy Arrangements
Finally, a tasteful floral arrangement is also appropriate. These can also include more variety and color than a traditional arrangement. For example, if the deceased was a veteran or firefighter, patriotic colors can be an appropriate color palette.
Cultural Consideration
When it comes to religious or cultural services, we would recommend getting in touch with a religious leader for recommendations. Most Jewish ceremonies occur within three days of the person's passing in accordance with Jewish customs, and flowers are not traditionally sent as a gift. Some Islamic services do not deem floral arrangements appropriate, so you should try to find out from family members whether flowers would be a welcomed gift. Finally, Funeralwise notes that in many Asian cultures the use of white and yellow flowers is most welcome.
At Cole's Flowers, our staff is highly trained and skilled in the area of sympathy arrangements and can help you select a tasteful and appropriate way to send your condolences. Place an order online now or give our staff a call today at 802-388-4003 for help selecting the appropriate arrangement.