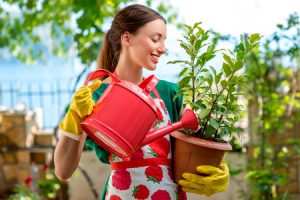 There are many benefits to having plants in your home. They help to purify the air, reduce stress, reduce your chances of getting sick, and help you breathe better. Although plants are so great for us, it can be hard to maintain their overall health. Maybe you forgot to water your peace lily for a couple weeks or left your Aloe plant I the sun for too long. As long as your plant isn't completely dead, chances are you can easily revive them with some simple care tips.
The first thing you have to do is determine what the problem is.
Underwatering
Inspect the leaves and soil. This will help you figure out what is wrong with your plant. Dry, dead leaves are a sign of dehydration, which means your plant is not being watered properly. Another sign of dehydration is dry crumbly soil at the root.
Overwatering
An overwatered plant is essentially drowning. There are a few signs that will indicate that you are watering your plant too frequently. These signs include:
Wilting
Brown leaves
Yellow falling leaves
Root rot
Droopy
If your plant is displaying any of these signs it is best to change their soil, move them to a shady are and be sure that their pot is draining properly.
A pot that doesn't have drainage holes or inadequate drainage will retain water, so even if you aren't actually overwatering it, the pot is retaining water which can still lead to an overwatered plant.
If your plant has been overwatered, only water it when the top of the soil is dry to the touch. If the soil appears wet/moist it does not need to be watered right away.
With these tips, you should be able to figure out a better watering schedule for you plants and learn the signs of overwatering and underwatering. If you are looking for an easy plant to care for, consider a Dumb Cane Plant from Cole's Flowers. Dumb Canes are great plants for your office and home. They also help to cleanse the air of toxins and require minimal care.
Cole's Flowers, in Middlebury, VT, is your source for plants and beautiful floral arrangements for any occasion. Check out our plant selection here!