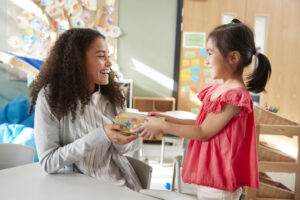 Doesn't it always feel like summer flies by too fast? One minute you're celebrating the Fourth of July and the next you're making your back-to-school list. For parents with students returning to school, the end of summer can be stressful as you scramble to get everything on your child's new supply list. But in your rush to prepare for the school year, it's important to remember that your child's teacher is doing twice as much work to prepare an optimal learning experience for their students.
To show them you appreciate their hard work and dedication, here are a few small teacher gift ideas that will go a long way!
Handmade Crafts
A homemade gift from a student is one of the most meaningful ways to let a teacher know they are appreciated. In the days before school starts, sit down with your child and help them make a special craft, such as a holiday ornament, picture frame, or just a handwritten card to gift to their teacher on the first day.
Gift Cards
Gift cards make easy and thoughtful tokens of appreciation that your child's teacher can actually use. Choose a gift card to a place that is used pretty universally, such as Target or Amazon. Or, if you know anything about the teacher, you can go with something a little more personal, such as a spa or restaurant gift certificate.
Personalized Mementos
Customized keepsakes are unique and fun—the perfect way to say thanks to a hardworking teacher. Personalized classroom supplies, such as pencils or stationary, are always a safe bet. But you could also take it a level higher and gift something like a tote bag for carrying supplies or a nice piece of wall art or desk décor engraved with their name.
Flower Arrangements
You can never go wrong with a gift of beautiful fresh flowers to show someone your appreciation. A custom flower arrangement or colorful bouquet will brighten up a teacher's classroom and bring a smile to their face. Whenever they see it, they'll remember that the work they do is recognized and valued.
For parents of students or friends of teachers in the Middlebury, VT area, Cole's Flowers can provide you with the perfect gift to start the school year off on the right foot. Check out our gorgeous options for back-to-school flower arrangements, each one carefully designed with a lot of thought, love, and meaning. There's no better way to show a teacher that they're appreciated than with one of our beautiful arrangements.
Choose a flower arrangement just in time for the new school year today!