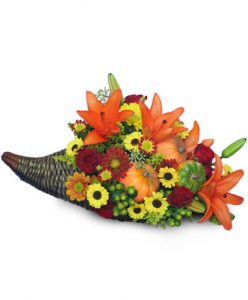 As a Thanksgiving host, you have a lot on your plate—and we're not just talking about turkey and mashed potatoes. It's up to you to create the perfect holiday atmosphere for your guests to enjoy delicious food and make memorable conversation. After you've gotten a handle on the bigger aspects of the day, like the guest list and the menu, it's the smaller details that really bring the whole experience together.
When it comes to dressing the Thanksgiving table, for example, having the right flower arrangements can make or break your setup. But if you use these tips from our expert florists, you'll have no problem choosing the perfect bouquet!
1) Avoid heavy fragrance flowers.
Normally, fragrant flowers bring extra life to your space. On Thanksgiving, however, you want every nose to be focused on one thing: the food. Strongly scented flowers can interfere with the delicious and savory aromas of your various dishes, so it's best to stick to unscented blooms for this holiday.
2) Choose iconic autumnal colors to embody the feel of the season.
A harvest color scheme is the best way to capture the warmth of the Thanksgiving season and put that festive feeling in the air. Fortunately, there are plenty of blooms with brilliant hues of yellow, gold, orange, and red—sunflowers, roses, carnations, mums, and Chinese lantern, just to name a few. Add an earthy element to your arrangements by incorporating herbs, branches, pinecones, and seasonal vegetables.
3) Keep centerpieces low and skinny.
While tall, luscious blooms might be stunning to look at, keep in mind that you're going to be sharing your meal at the table too. You don't want giant centerpieces to interrupt the flow of conversation and block views across the table. Cut stems low and use a shorter vase (or a cute basket!), or create a garland-inspired arrangement that lays flatter on the table. Slimmer arrangements will also leave more room for food and plate passing.
With Thanksgiving floral arrangements from Cole's Flowers, having a beautiful dinner table is one less thing you'll need to worry about in your holiday hosting duties. Choose from a number of designer bouquets and centerpieces, or have something custom-made by our florists instead.
Browse our Thanksgiving flower selection online and order your arrangement for delivery today!