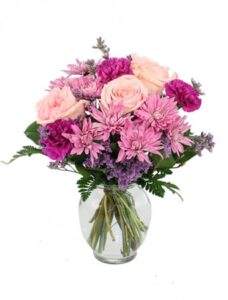 At Cole's Flowers, we believe that flowers are always in season, but the spring season specifically brings forth luscious gardens and blooming bouquets. There is much to celebrate during this time of rebirth, including National Gardening Day on April 14th! Celebrate with a fresh bouquet and get ready to spruce up your garden.
Here are some of the best spring bouquets we offer to excite you and your loved ones about the warmer months ahead and inspire you to turn your outdoor landscape into a gorgeous floral oasis!
Yellow Frenzy
This bouquet will bring a splash of sunshine indoors until you can get outside and add warm yellow tones to your outdoor landscape. Our yellow frenzy arrangement is packed with yellow blooms, including snapdragons, daisy poms, lilies, and solidago. The brightness of this arrangement will put some spring into your step and encourage you to get outside and get started on your garden.
Suddenly Spring
This colorful bouquet is packed with a variety of different flowers, each one unique to itself, sprinkled with pink gerberas, carnations, roses, tulips, and more! The suddenly spring arrangement highlights every spring shade and will definitely excite you to showcase a rainbow display of colors in your garden this summer!
Look Lively Lavender
The light and bright shades of purple in the look lively lavender arrangement represent the slow but ever-steady transformation of the spring season. The cold, dark, frozen winter to the warm, fresh, new beginning of spring takes months but happens naturally and perfectly. The progression of dark purple hues in the lavender to the subtleness in the light pink roses truly encompasses the wonder of the changing seasons.
Whether you want to freshen up your home, celebrate a special occasion, or send a sweet surprise to a friend, our floral arrangements are the perfect option! Our experienced designers work with you to create floral arrangements that will meet your budget and style expectations so you can ensure you love the finished product.
Contact us at (802)388-4003 or place a custom order online to get the spring floral arrangements you need to celebrate this beautiful season!