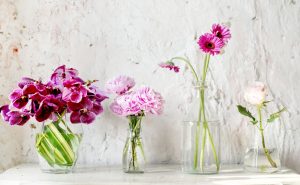 Who doesn't love getting a fresh bouquet of flowers? Whether they're from a loved one or just a little treat you bought for yourself, it's always exciting to find the perfect spot for new flowers in your house and enjoy their beauty as they bloom.
If you truly want to create the best display out of your gorgeous bouquet, you should choose a vase that complements their style. The most important factor? Vase shape! Check out our rundown on your top options.
Cylinder Vases
The cylinder vase, also called a column vase, is one of the most versatile of all your choices. Cylinder vases pair well with longer flowers and provide good structure for a tall or heavy bouquet. Depending on the flowers, these vases can have a modern, traditional, or classic elegant look.
Pair with: lilies, roses, sunflowers, gladioli, peonies
Fish Bowl Vases
Fish bowl vases, or round vases, offer a unique beauty when filled with the right bouquet. They're ideal for top-heavy flowers that can spill over the top and create a luscious display. When preparing a bouquet for a fish bowl vase, cut the stems to the height of the vase and arrange the flowers over the opening for a dome effect.
Pair with: tulips, gerberas, orchids, roses, carnations, any flowers with rigid stems
Square Vases
Also known as cube vases, square vases work well for bulkier flowers that don't have a wide bloom. Make sure to cut the stems short and pack the vase tightly. If you're worried about having too much empty space, put a layer of decorative filler like marbles or pebbles at the bottom. Square vases look good on side and coffee tables.
Pair with: violets, succulents, hydrangeas, mums, anemones
Hourglass Vases
If your bouquet is made up of flowers with larger, rounder heads, then an hourglass vase is the way to go. A wide bottom, narrow neck, and flared opening make this vase perfect for visually balancing and accentuating the volume and shape of a lush bouquet. In fact, they're also known as bouquet vases!
Pair with: roses, hydrangeas, peonies, daises, lilies
If you want to work the other way around and choose a bouquet based on the shape of a vase you already have and love, Cole's Flowers has you covered! We offer an extensive variety of designer bouquets made up of all different flower types, colors, and shapes. We'll be happy to recommend or custom-make the perfect bouquet for your favorite vase.
Shop our flowers for delivery online or contact our florists for a custom arrangement!