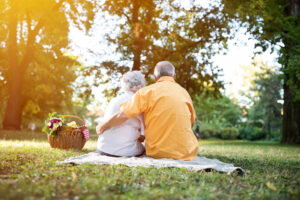 As we watched Valentine's Day come and go, we were reminded of how many happy couples enjoy celebrating their love for one another. Whether you and your partner have been together two years or forty, making an effort to celebrate the special holidays of love can do wonders for your relationship. When it comes to romantic anniversaries, it can be difficult to come up with unique and fun ways to celebrate as each year passes.
Here are a few ways to make your anniversary special and memorable this year.
Remake Your First Date
Taking it back to the day it all began can reignite that first spark you and your partner created. Remaking your first date could be as easy as returning to the first restaurant you met up at or recreating the meal you had together at home. If you really want to make it special, you could take a trip to that park in New York City where you first bumped into each other or drive through the college town where you first laid eyes on each other. Take it back to the beginning and make an adventure out of it.
Recreate a Memorable Photo
If you are lucky enough to have photographs from the beginning of your relationship, try recreating some of them. This is a cute way to spend your anniversary while reminiscing on the wonderful times you have spent together. If you both find joy in creativity, you could take those photos and make a romantic scrapbook out of them together!
Renew Your Vows
If you have been married for around 15 to 20 years or more, you could renew your wedding vows to make your anniversary unique and memorable. It doesn't have to be a big celebration with your entire family and a white dress. It could be as simple as going on a picnic and professing the promises you gave to each other years ago.
However you choose to celebrate your anniversary this year, make sure you always include a beautiful bouquet! At Cole's Flowers, we craft our floral arrangements to perfection so you can ensure your loved one will feel special and appreciated.
Browse our anniversary arrangements online, or give us a call at (802)388-4003 to learn how you can customize your flowers for your special day.