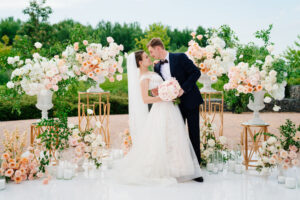 One of the first things to cross your mind when planning your wedding is what time of year you want to say, "I Do!"
There's something extra romantic about a summer wedding. From fully bloomed flowers to gorgeous sunsets and warm starry night skies, it's the perfect time of year to share a special day with your friends and family.
Here are a few top reasons you should consider planning a summer wedding!
You Can Opt for Outdoor Venues
Summer allows for venue options that feature outdoor space. This time of year gives you the option of getting married on the beach, having an outdoor cocktail hour, or hosting the entirety of your event in the great outdoors. Whether you want a boho beach ceremony or a tented wedding on a sprawling lawn or garden, all these options are possible during this warm and picturesque time of year.
More People Can Attend
It's much easier to get time off from work during Summer than other times of the year. Especially with kids out of school, families won't have to worry about missing class time. As a result, you'll have a bigger turnout and be able to have more of your friends and loved ones attend your big day.
More Hours of Sunlight
Summer days provide more hours of sunlight than other seasons can. This is key if you want a late start time for your wedding or more daylight hours for photo opportunities. It's nice to have this flexibility in your schedule, which is why summer weddings are so popular.
Various Floral Options
Flowers are an important part of your wedding day and the summer season offers a wider variety of flowers at better prices than at any other time of year. At Cole's Flowers, we can handle all your floral arrangements for your special day. Form The tossing bouquet to the reception and ceremony flowers; our artistic florists will craft a beautiful arrangement that will fit the theme and color scheme of your wedding perfectly! 
Contact us today at (802)388-4003 to learn more about our floral wedding services and take your special day to the next level this summer!