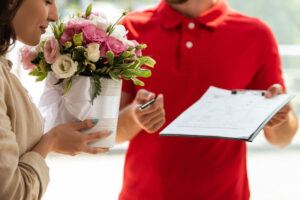 If you're looking for a sweet and thoughtful gift for any occasion, you can't go wrong with a gorgeous flower bouquet or arrangement. Flowers are a popular gift choice for many reasons. One of them is that they can be delivered to anyone, pretty much anywhere, to let them know you're thinking of them even from a distance or if you're too busy to get together.
When you have flowers sent to someone for delivery, there are a few things you'll want to keep in mind in order to pull it off perfectly:
Choose longer-lasting flowers for delivery.
Depending on where and when you're having them sent, there may be a day or more in between when your arrangement is created and your loved one receives it. With this in mind, try to select types of flowers that will last longer to be sure they hold up during the delivery process. You'll likely want to do this anyway though, so your recipient can enjoy their gift for as long as possible.
Show meaning through your flowers.
Different flowers have different symbolism behind them. As you're choosing flowers for your gift arrangement, think about what you want to say to your recipient and how you want it to make them feel. Consider the occasion as well—you don't want to end up sending funeral flowers for someone's birthday.
Include a card.
In case the meaning of the flowers you choose isn't clear to your loved one, add a card to ensure they get the message. A card will make your flower gift feel more personal and unique to the recipient too. Keep whatever you write short and sweet, letting your flowers do most of the talking.
Order in advance.
When you're having flowers delivered to someone, it's important to place your order in advance. Your florist will need enough time to make sure the flowers you want are in stock, make the arrangement, and coordinate shipping and delivery for your desired day and time. If you're sending flowers for a major holiday, like Mother's Day or Valentine's Day, order even further in advance.
At Cole's Flowers in Middlebury, VT, we have a flower arrangement or bouquet for every occasion, every recipient, and every message you could possibly want. Check out our pre-designed seasonal or occasion arrangements, or talk to one of our florists about a custom bouquet. Once we've created the gorgeous floral gift you have in mind, we can deliver it locally to any loved one in surrounding Vermont areas.
Contact us today to learn more about our flower arrangements and delivery services!