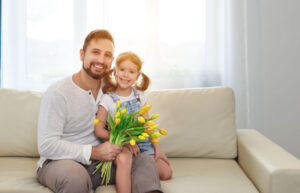 When choosing a gift for a special man in their life, most people don't usually consider a bouquet of flowers or custom arrangement. For Mother's Day or mom's birthday? Flowers are a given. But there seems to be a gender bias ingrained in society, that most of us don't even realize, that somehow says flowers are not an acceptable or desirable gift for a man.
While some men may not like flowers, that doesn't mean a large majority of them wouldn't appreciate a stunning bouquet or arrangement. In fact, here are a few reasons we think flowers will make a great gift for Father's Day!
Flowers are an unexpected gift for dad.
As we said, flowers are more often seen as a gift for women, but many men enjoy them just as much. A lot of fathers are probably tired of the cliché Father's Day gifts they've come to expect—ties, tools, mugs, t-shirts, etc. Switch things up this year and get him a beautiful gift he won't see coming.
Send a meaningful Father's Day message.
Father's Day is, obviously, the perfect occasion to tell dad how much you love him and appreciate everything he has done for you. Different types of flowers have different meanings that you can use to express your feelings in a bouquet or arrangement. Red and white roses are a good option, as they're the official Father's Day flowers (white to symbolize late fathers). Sunflowers, which symbolize loyalty and adoration, and purple irises, which represent wisdom, are a few other fitting choices.
Let dad experience the benefits of flowers in his space.
Whether he puts them in his man cave, office, or on his nightstand, Father's Day flowers will bring natural beauty, warmth, and comfort to your dad's space that he can enjoy for weeks. Fresh flowers also have some health benefits he can savor, such as improving air quality, fighting illness, promoting relaxation, and boosting mood.
At Cole's Flowers, we make it easy to find the perfect floral gift for Father's Day. Choose from any of our designer Father's Day floral arrangements, which have all been carefully curated with a natural, masculine beauty that dad will love.
Contact our Middlebury shop today to arrange for pickup or delivery of your gorgeous flowers!